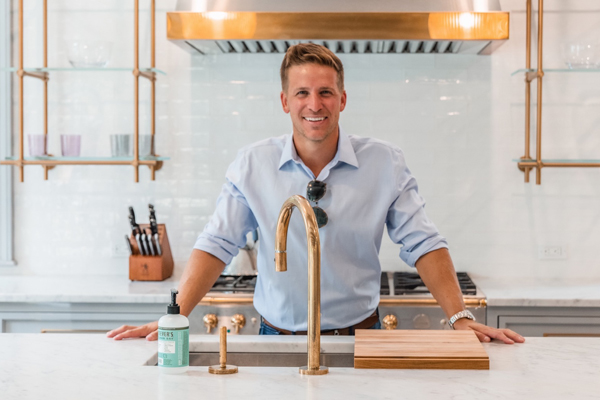 Where Will Bridge Take You?: J.B. Andreassi, Bridge 2012
We recently checked in with Bridge alumni to see where they are now. This is the first profile in a series from the article, "A Strong Bridge to Business Leadership" published on Tuck News.
Undergraduate degree
Dartmouth College 2012, B.A. History
Region
Long Island, NY
Career
Licensed real estate broker with Nest Seekers International, Southampton, NY
---
A three-year starter on Dartmouth's football team, J.B. Andreassi D'12, Bridge '12 chose to attend Bridge right after graduation and before he started working for the NHL in New York. "I figured it would be smart to get on the fast-track to business knowledge," he says. "I was excited to be a part of it, and I couldn't be happier that I did it."
For his study group's capstone project, they chose to study JetBlue. It was Andreassi's first big presentation in a business setting, and he was a little nervous, but it went well. He focused on the marketing and branding of the company, and he immediately put his new skills to use in the NHL's corporate office, where he first worked on events like the All-Star Game and then switched to the marketing department. There, he oversaw accounts such as Miller-Coors and Honda, who were promoting their brand through the NHL's platform. "A lot of the tools I learned going through that presentation I applied directly to the business world in real life," he says.
As the son of a real estate developer in the Hamptons, Andreassi decided to go into the family business. In 2019, the luxury real estate firm Nest Seekers hired him as a broker, and then the CEO of the company thought Andreassi would be a good fit for a role on the reality show Million Dollar Beach House he was co-producing with Netflix. They shot the first season from June to September, and the show aired on Netflix in August of this year, ranking as the second most popular series for more than a week. "What I cared about was the business side of things, and getting a competitive advantage," Andreassi says. "Buyers are calling me from around the country now."
Looking back at his Bridge experience, what stands out the most was the accessibility to the professors and mentors, and the ability to collaborate with a diverse cohort of young and intelligent people. He still keeps in touch with members of his study group, some of whom went on to work at Bain Consulting and Facebook. "Bridge really paid off for me and the others in my program," he says.