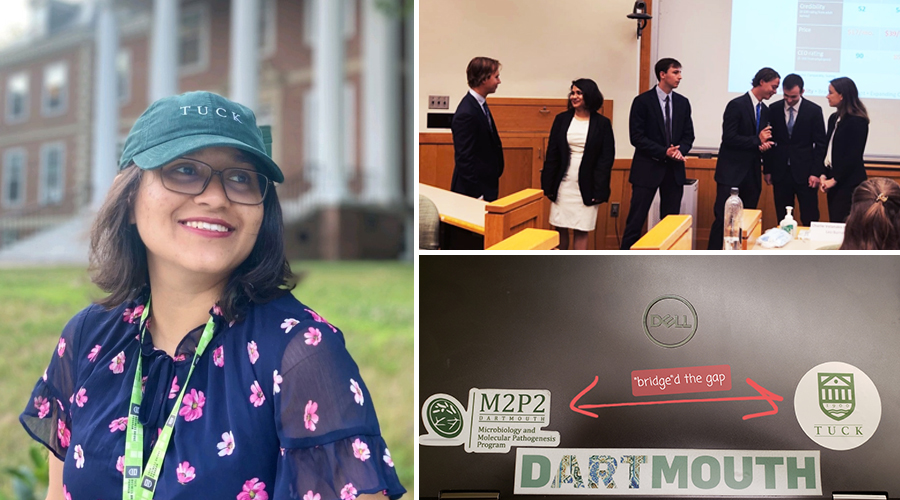 Tuck Bridge Stories: Sharanya Sarkar
Note: This post originally appeared on Sharanya Sarkar's LinkedIn page.
---
No wonder The Tuck School of Business at Dartmouth is one of the best B-schools in the world. The faculty members, their teaching methods, the infrastructure, the career development resources, and everything about this place is class-apart and have made my experience at the Tuck Business Bridge Program at Dartmouth over the past 3 weeks extremely rewarding. I don't remember the last time I experienced this high of a learning curve, and this program has definitely invoked a sense of curiosity and passion in me for delving deeper into the business world.
I would like to thank my teammates Dylan Thomas, Emily Moore, Timothy Murray, Warner Swaak, and William Stuart with whom I worked on the capstone project. We conducted analyses of the financial statements of the New York Times, followed by its valuation modeling, as well as economic, strategic, and marketing analyses. We finally created an executive summary to present in front of investment bankers and management consultants and defended our presentation with models, spreadsheets, and news articles.
I also made a few amazing friends here - thank you Shashwat Drolia, Hitesh Jonnalagadda, Nicolai Heimbeck Arnesen, Sydney Evans, Muhammad Zeb, and Anthony Stanis for all the laughs and giggles.
As I take with me an abundance of inspiration, humility, and confidence, I not only feel extremely grateful but realize that there is a sea of opportunity to build up on these business skill fundamentals. Without this program, I probably would have never realized that I love working hard and that I derive a lot of my intellectual satisfaction from the hustle in fast-paced environments.
I would not only like to thank everyone involved with the program, but also my Ph.D. advisor Dr. Bruce A. Stanton, who has been super supportive of my exploration into careers at the interface of science and business. Happy and proud to be a Tuck Business Bridger!
—Sharanya Sarkar (Dartmouth PhD '25, Bridge '22)