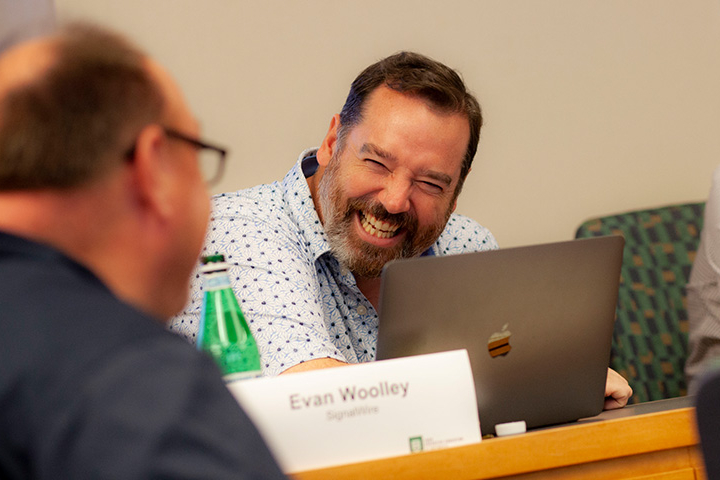 From Business Bridge to the Advanced Management Program: Evan Woolley
Imagine attending Tuck twice—nearly two decades apart.
For Evan Woolley, who attended Tuck Business Bridge in 2004 after graduating from Colby College, returning to Hanover for the Tuck Advanced Management Program (AMP) in 2022 was a full-circle moment.
Woolley, who majored in Asian Studies, initially enrolled in Bridge to ensure he was prepared for his first post-college job in finance.
"I had taken corporate finance and other business and law-related classes, but I didn't go through the classic econ curriculum," he explained. "I wanted to ground myself in finance techniques, and I met a group of like-minded students who were going after specific goals like starting businesses, working in finance, or consulting, all with different backgrounds."
After Bridge, Woolley built his career in finance, real estate development, and fintech, primarily focusing on strategy and M&A work. In 2021 he shifted industries to work at the telecom tech company SignalWire, which builds the APIs powering platforms like Zoom, where he is currently EVP of Strategy. At that inflection point, Woolley returned to Tuck to attend the Advanced Management Program.
"When I applied, I was working at one company," he said, "and when I showed up, I was working at another—but it was still super valuable."
The second time around, Woolley noted, his experience at Tuck was significantly different since he was there to gain new perspectives on his work and further build his network rather than start from scratch.
Working with Professor Ron Adner on ecosystems thinking, Woolley said, was particularly powerful.
"The capacity to take a step back and look at new opportunities, to consider the competitive environment and not only the value proposition but the value ecosystem that you're playing a part in is invaluable," he said. "The value of creating flexible partnerships that don't eat themselves up over time wasn't a concept that was new to me, but the way he reinforced it and came at it from a different perspective was incredibly useful."
For Woolley, focusing on partnerships—which he says have been an integral part of his career—came naturally at Tuck.
"I still work with and enjoy the people I attended Bridge with," he said. "One of them is on the board of my wife's school."
While the relationships he built at AMP are newer, Woolley expects them to be equally fruitful.
"I think the people that choose Tuck choose it for a reason. They choose it because they want to affect people in business in a mindful and creative way. In fact, I just got an email from an AMP attendee out of London about how to leverage APIs and technology, and we're going back and forth on ways to help each other. I view that as the power of an extensible network."
Woolley had the chance to share that insight firsthand when he was asked to speak to this year's Bridge students.
"Because it was AMP, and every person there was among the friendliest executives I've ever met, I brought two of them with me—the CEO of an insurance company in Bermuda and a trial lawyer. We shared with them how valuable all of them are and how valuable the experience they're sharing is. The network is powerful, and I attribute that to Tuck's culture."