Recruiters appreciate the caliber of our students and alumni. At the Business Bridge Program®, you will find a ready source for recruiting and developing talent for internship and full-time positions. Our goal is to match your needs with students who have the skills to thrive in your organization.
Our students and alumni are skillful individuals who represent a diverse range of backgrounds, industries, and experiences. Access our 7,000 Tuck Business Bridge Program alumni for your hiring needs. There is no charge to post a position to our alumni page. Register your firm or company with CORE, Bridge's recruiting platform. Gain access to our extensive résumé database and post internship and job descriptions for current openings.
Everyone coming out of the Tuck Business Bridge Program is a great team player and knows how to work in difficult situations. ... They can apply for jobs that other liberal arts students wouldn't think they're equipped for.
---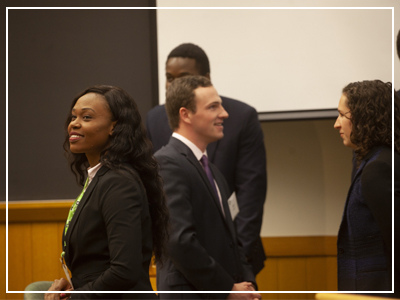 Explore Ways to Connect with Bridge Students and Alumni
Build your pipeline during August Plus; a week of virtual networking, learning, and career exploration! This programming is offered to our recent alumni as an opportunity to further engage with the Tuck community and Business Bridge Program corporate partners.
Host Coffee Chats, Informational Interviews or an Info Session
Share opportunities on the Tuck Business Bridge Alumni LinkedIn Page
Have something else in mind?
We are happy to discuss ways you envision connecting with our students and alumni. For more information about recruiting through the Tuck Business Bridge Program®, please contact us.