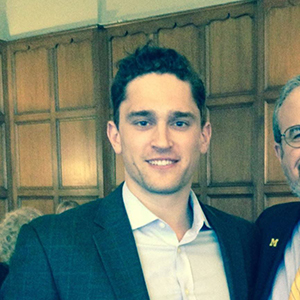 Tuck Bridge Stories: Ryan Breen
Ryan Breen is a 2015 graduate of the University of Michigan and attended the Bridge program the summer after his senior year. Currently, he is a Management Consulting Analyst at Accenture. This is his story:
As a senior at the University of Michigan, having already accepted a return offer from Accenture, I decided to apply to Business Bridge because of the reviews I had heard from former attendees as well as my general proximity to Dartmouth and Tuck in general (I went to Phillips Exeter Academy right down the road, and always admired Dartmouth as a school). For me, my choice to attend Business Bridge was not about adding a venerable name to my resume or substantiating my application to companies or business schools. Though it may sound cliché, it was much more than that.
Over the course of my years at Michigan, I really came into my own intellectually. I developed a deep understanding of economic theory and accounting principles, not just as academic fields of study, but as concepts that have direct applicability to management practices and business in general. This led to my decision to enter the management consulting industry, as problem solving and "corporate innovation" were both very interesting. MECE segmentation models, data driven analysis, technology integration - these are all important components of organizational efficiency and operational effectiveness in this day and age, and I believe that my experience at Business Bridge reinforced and firmly ingrained these concepts in my mind, which have helped me excel in my first year as a management consultant.

Business Bridge is very management-focused, just as Tuck is as a school. The best part of the program is the team-oriented structure. As a group, we would leverage the knowledge and insight gained from the seminars and work collaboratively each day and night, just as I do now as a management consultant. The whiteboarding sessions, analytical discussions, and cross-team work were all beneficial and provided us each with opportunities to develop our leadership skills, interpersonal interactions, and analytical approach to solving business problems.
However, perhaps the most important aspect of the program, one that I cannot emphasize enough, is the truly comprehensive/all-encompassing approach that is used to learning and professional development. We all ate meals together, attended seminars together, worked on assignments together, and, when the work was done, socialized together. This both directly taught us the importance of prioritization, time management, and work-life balance as well as indirectly showed us the value of both team-based analysis and the importance of building bonds and personal relationships in a professional setting, something that is absolutely invaluable in management consulting and investment banking, the two industries that attract the bulk of Business Bridge and Tuck graduates.
My decision to attend Business Bridge provided me with fantastic career preparation and a network of smart, savvy, personable people. It honestly felt like home for me. Granted, each student enters the program at a different age and with varying levels of business acumen. But after four short weeks, all leave with an arsenal of both hard and soft professional skills and the memory of an unforgettable experience.