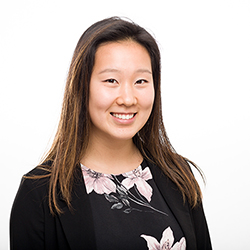 Tuck Bridge Stories: Jodi Ann Wang
Jodi Ann Wang is an International Relations major at Kenyon College. She attended Bridge in summer of 2018.

For a month of my summer this year, I participated in a four-week intensive mini-MBA program at the Tuck School of Business at Dartmouth College. Here are some reflections on one of the most academically rigorous and intellectually challenging months of my academic career:
As an international studies major, I've always underestimated the intersectionality between the world of business and international development. My original goal with coming to Bridge was to be financially literate so I can help those in low-income countries become self-sufficient through entrepreneurship. Yet, Bridge offered me so much more. It opened me up to new possibilities and opportunities to network with like-minded professionals who can provide me with a platform to turn my goals into a reality.
Like most of the home institutions of Bridge participants, Kenyon, as a liberal arts college, is absent from a business program. Just like its name, the Tuck Bridge program helped "bridge" the gap and pave the road between a liberal arts degree and the skills needed to thrive in the business world. Whether it is taking what we learned in classes such as Accounting, Corporate Finance, Marketing Strategy and applying it to our corporate valuation project, or editing and re-editing our resumes so we can better market ourselves to recruiters, Bridge provided us an opportunity to challenge ourselves and discover our inner potential that we may have never realized before.
Each day begins at 8:30 AM and is generally composed of four 80-minute lectures and intersected with 20-minute breaks in between each. Core classes such as Accounting, Spreadsheet Modeling, and Corporate Finance can have up to nine lectures while additional sessions such as Negotiations, Organizational Behavior, and Entrepreneurship occupy one to two classes. In the evening, our schedule is booked for study group sessions. My study group met every night for at least one hour to work through homework assignments, catch up on our day, and plan for the next. While some days are long, the weeks flew by quickly.
I distinctly remember sitting with my fellow group members in our study room during our first study group session, having the same mixed emotions of confusion, excitement, and nervousness as I did during freshman orientation in college. Accounting vocabulary seemed like a foreign language to me, and spreadsheet modeling felt like the struggle to untangle a pair of wired headphones. But as we moved forward with the program, the challenging curriculum became a norm, and most amazingly, I was standing in front of panels of industry professionals before I could even process how I mysteriously understood MarkStrat, the process to do a DCF analysis, or marketing analysis.
The study group format allowed me to actively engage in my learning in the environment of five like-minded individuals, and that maximized the efficiency and results. Each night I returned back to my room feeling accomplished, ready for the next day. This style of absorbing class material is something I can bring back to Kenyon and further incorporate into my studies in the near future.
Bridge was not only a process to absorb knowledge but a multi-channel "bridge" that actively encouraged me to apply such knowledge into the greater space of different areas of business whether through homework of real-life case studies or the final corporate valuation project. Bridge was a challenge and a reward. It is something that has opened my eyes to further possibilities that will assist me in making my academic goals at Kenyon a reality.