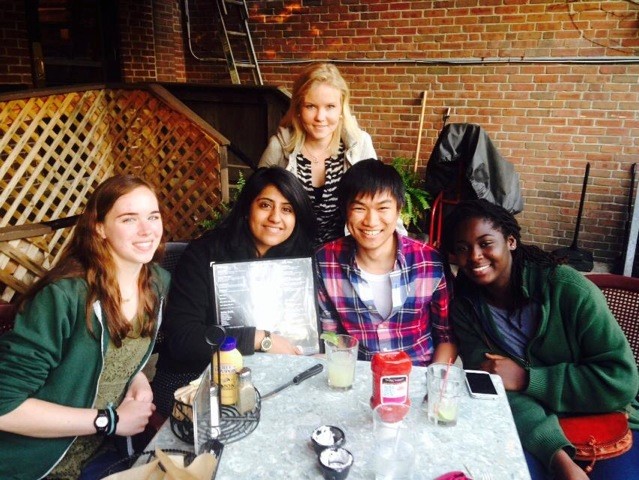 Tuck Bridge Stories: Delanyo "Dela" Kpo
Delanyo "Dela" Kpo is a 2014 graduate of Dartmouth College where she studied geography and international development. Dela has been at MBI, Inc, a $350 million consumer products company, since 2014 and is currently an Assistant Program Manager in the publishing division. Dela completed the Bridge Program the summer after her senior year. This is her story:
At least five of my friends from Dartmouth College had gone through Bridge, and every single one of them had something positive to say about the program. I didn't come from a "traditional" business background. I spent most of my summers volunteering or conducting research, so when I got my job at MBI, I felt quite unprepared. As I spoke to various Bridge alums I realized the program would be the best way to bridge the gap (pun intended).
I couldn't get over how much information we learned in such a short amount of time. People told me Bridge was rigorous, but I didn't truly understand what they meant till I was there. As someone who came to Bridge with very little business experience, or acumen, it was empowering to grasp the information as quickly and as successfully as I did, and to be able to speak somewhat intelligently with experts about financial accounting, discounted cash flows, valuations, marketing strategies, and managerial economics.
While I had a job before I came to Bridge, I was pretty anxious about how effective I would be as a manager right out of undergrad. I left Bridge with a strong sense of confidence and complete faith that I could handle whatever came my way. Aside from the hard skills and knowledge I took from Bridge, I now have a powerful network of friends, and amazing mentors, who continue to shape my career—Bridge has been transformative for me. I became a Kemp Fellow because of Bridge, got to attend the annual PhD Project conference, and I have been recruited by multiple firms that cite Bridge as one of the attractive parts of my candidacy.