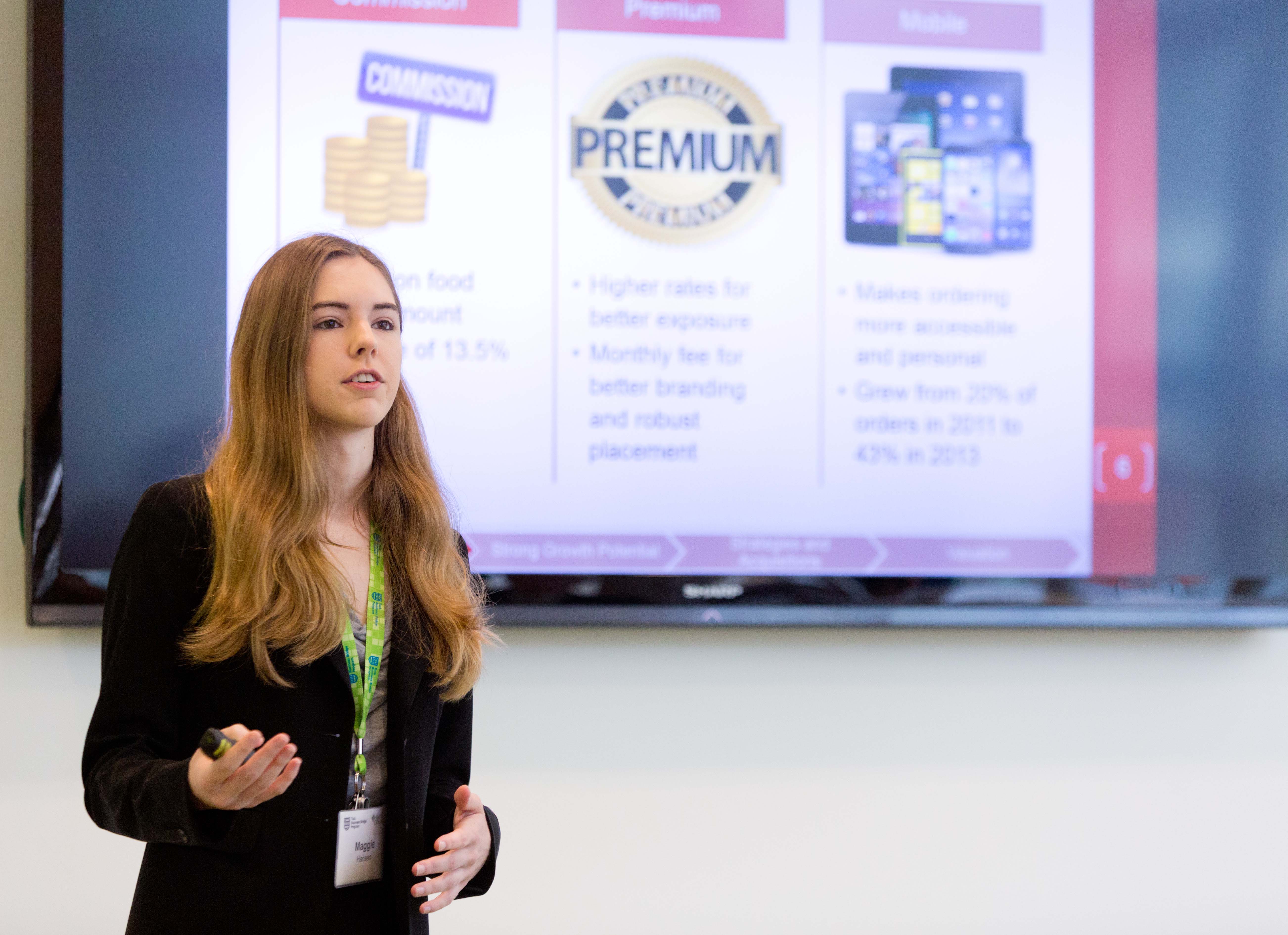 Tuck Bridge Stories: An Interview with Maggie Hansen
Margaret (Maggie) Hansen is a current senior at Georgetown University, where she studies math and chemistry. In May of 2015, Maggie started her Bridge journey as a part of the first ever Smith-Tuck Business Bridge Program class. We spoke with Maggie about why she chose the Smith-Tuck Business Bridge Program:
Why did you choose to attend the Smith-Tuck program?
I chose to attend Smith-Tuck primarily because I wanted to attend the Tuck Bridge program to learn valuable business skills and what it would be like to work in various business fields, but I also wanted to be able to hold an internship over the summer, and Smith-Tuck's timing fit perfectly with that. I also liked how the Smith-Tuck program was smaller, which I knew would allow me to get to know professors and other students much more easily and to a greater extent.

Did you feel like you were welcomed into the Smith community?
Most definitely. Everyone at Smith - from the students to the staff - went out of their way to make sure I felt included and a part of the Smith-Tuck community. I was the only person in my study group not from Smith, but by the end of the first week I'd already forgotten about that because the others were so welcoming. The Smith career center's staff were incredibly helpful and inclusive as well,

What was it like spending the summer at another university?
I really enjoyed it because it gave me a chance to experience learning in a college environment that wasn't Georgetown and was different in many ways. While it definitely took me a bit of time to adjust, it was definitely worth it in the end because studying at a different university gave me a different perspective than simply attending Georgetown would have.

Describe the experience of learning in an all-women environment (what surprised you, what were some take-aways, what did it offer in the intense learning structure).
I honestly thought I'd notice it much more than I actually did. Looking back on it, I think I felt more comfortable in such an environment - I have two sisters and no brothers so I think it was almost normal for me - and this comfort definitely helped with the intense work load.

What's your next move? What will you take with you from Smith-Tuck, how has it prepared you?
Smith-Tuck gave me the ability to see myself taking a job in a variety of fields that I had never considered before because I thought they wouldn't want a math major or that I didn't have relevant experience for those jobs. However, the program allowed me to re-orient my career path to this new world of possibilities and enabled me to actually see myself in some of these positions. Immediately after I graduate, I will be working for Berkeley Research Group here in DC, which is not something I would have considered applying to before Smith-Tuck.