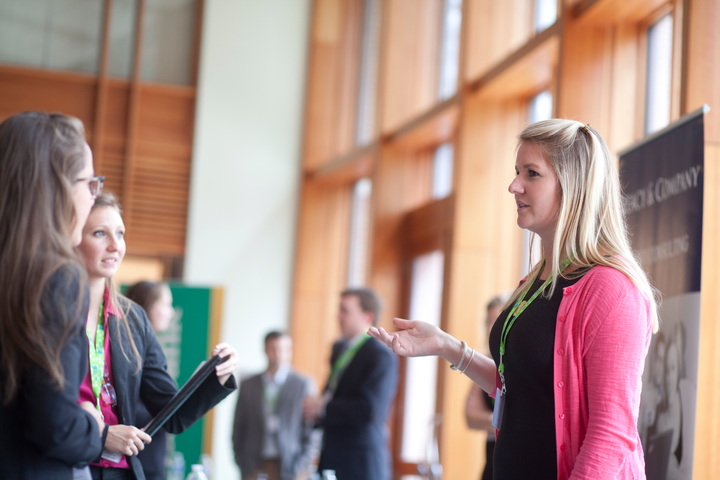 So you didn't get a job offer…
Didn't get one of those elusive "on-campus" interviews or job offers? You are not alone. There are many more students seeking employment then offers made on any campus, so a targeted search is often the way many students identify opportunities. And, maybe you have chosen to pursue a less traditional path…
What are next steps?
Create structure around your job search. Put together a short list of firms and functions and begin by identifying roles with them. Be targeted - build your initial list based upon an industry, a particular role, or a preferred location, and keep the number small. You can replace names as you work through them.
Keep a spreadsheet of interactions (date, contact information, subject you discussed) so you can follow up periodically.
Don't wait for one firm to respond before approaching the next one. You should be trying to juggle multiple opportunities at the same time. The worst thing that can happen is that you end up with multiple offers and you have the luxury of deciding which one to accept.
Read the "2-Hour Job Search" by Steve Dalton and learn how technology can make your job search easier.
Who can help me find a job?
You need to identify people who are willing to become part of your network and who will advocate for you when looking for a job.
Use LinkedIn to search for people who will be willing to help you.
Search by college.
Search by fraternity or other organizations in which you are active.
Search by company or job title.
If you have attended programs like the Business Bridge Program at the Tuck School of Business connect with their 4,600+ alumni.
Use the internet. Find professionals who have spoken at conferences or been quoted in a publication and use that as a reason to reach out to them.
Don't be embarrassed to use family and friends.
I have a target list of companies and people. How do I approach them?
Check the career portion of their website to see what programs they offer students. Also check their job postings to see if there are entry level positions for which you may qualify. Once you have applied to one of these jobs you should reach out to someone you know, or have found through a LinkedIn search (always start with email), and begin a dialogue – they could be an internal referral.
Be prepared to drive the conversation with intelligent questions. They are taking time out of their day and being prepared is courteous. If the conversation goes well they will likely be willing to speak with you again and will be receptive to accepting your LinkedIn request.
Your goal is to come away from each conversation smarter about the firm / industry. You will potentially gain a supporter and maybe even an offer of an internal referral.
Don't be a "taker". Offer to be of service to the person you have spoken with (for example: offer to speak to anyone they might know who is thinking about applying to your school). Always put yourself in their shoes.
This will take time and dedication but you will increase the number of opportunities that cross your path. Happy hunting!
- Deirdre O'Donnell, Director of Career Services for the Bridge Program and Associate Director of the Tuck Career Development Office.