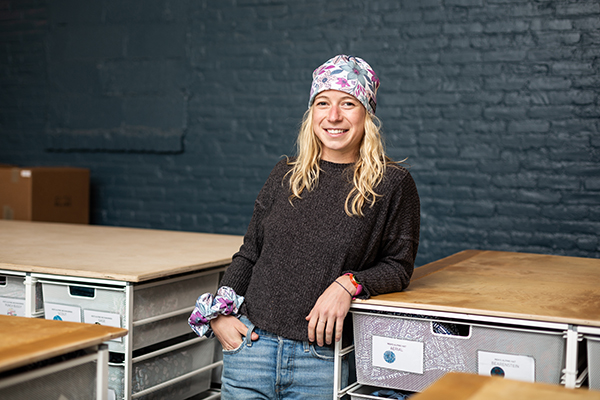 Mountain Made
MOUNTAIN MADE
By Jeff Moag
Photos by Rob Strong Photography
Jan 30, 2019
http://www.tuck.dartmouth.edu/news/articles/how-tuck-bridge-propelled-skida-ceo-corinne-prevot
SNOWBALLED. That's the term Corinne Prevot uses to describe the business she started as a 17-year- old ski racer at Vermont's Burke Mountain Academy, a school renowned for turning out champion ski racers. Prevot had started as a downhiller and switched to cross-country in her junior year. She loved the sport but found its grey knit cap fashion aesthetic uninspiring. At home that rainy Christmas holiday in 2007, she bought a yard of floral-print Lycra fabric at a local craft store and sewed matching hats for herself and her teammates.
We went to a race in Maine sporting our colorful flower hats," she recalls. "It was super fun, and after the race a few girls from another team came up and asked, 'Can you make us some of those hats?' I said, 'Sure,' and it just snowballed.
So started Skida, a ski-inspired hat and accessories brand known for its quirky patterns, sustainable ethics, and deep New England roots. Last season the company sold more than 100,000 Vermont-made hats, headbands, and neck warmers, earning its 27-year-old founder and CEO a spot on Forbes 2018 30-Under-30 list of young entrepreneurs. The magazine has had its eye on Prevot for years; in 2011 when she was a junior at Middlebury, she filmed an interview for the Forbes website, telling a reporter how she'd built the company from scratch without borrowing a dime. "The money comes from the hats," she explained to the man, who looked to be in his 40s and clearly dazzled. He asked her to describe her style as a CEO, and Prevot smiled. "Whimsical," she said.
Skida was already doing $100,000 in business annually, and Prevot was balancing her career as an up-and-coming entrepreneur with her classes and rigorous training as a member of Middlebury's Division I Nordic ski team. She planned to give Skida her full attention after graduation, but recognized she'd need more than whimsy to scale her business. In many ways, Prevot was a perfect candidate for Tuck Bridge, the three-week transition-to-business program for rising juniors, seniors, and new graduates of liberal arts schools.
She learned about Bridge from her father, Roger Prevot T'83, operating partner at Kohlberg & Company, and attended the program in the summer of 2013 with her younger brother Mitch Prevot, an investment analyst who was then an undergraduate at Williams College. The Tuck connection runs deep in Prevot's family; an aunt and uncle are also graduates of the MBA program. Entrepreneurship, too, is in the blood. When Prevot was a girl, the family lived on a few acres in rural Pennsylvania, and she and her brothers sometimes worked a farm stand after school.
"We had sheep and we would shear them. There was a phase when my mom was really into spinning yarn and I'd go to the wool festival with her over in Lancaster," she says. Margie Prevot has played a variety of roles at her daughter's company, from seamstress to supply executive. Roger Prevot, who sits on the boards of several precision manufacturing firms, shares his advice whenever his daughter asks for it. Skida has always been Corinne Prevot's company, however, and she was eager to develop the business skills to guide its growth.
"Bridge made sense for me because I needed a crash course—a kind of mini-MBA," she says. "I'd taken a lot from Middlebury but I didn't have any experience in accounting, or building business models with really sophisticated Excel sheets, or talking about corporate responsibility. Bridge was an amazing crash course in all of those skills."
The Bridge program emphasizes the same case-based collaborative learning method for which Tuck's MBA program is renowned, with a similar emphasis on general management. Prevot's group research focused on the sports apparel company Lululemon, a particularly relevant project given her plans for Skida. "They do their own manufacturing, so that was very relatable in the way that they structure their business," she says. "Bridge gave me a lot of confidence and I left the program just itching to hit the ground running and start working on Skida. I haven't slowed down since."
The ability to go back and forth between the creative and the more data-driven aspects of the business is so rewarding. I'm able to inform so many different decisions because I understand both sides of that picture.
She leased an old woodshop in Burlington, VT which became Skida's business office, design studio, warehouse, and retail space. It's a fitting headquarters for a company steeped in Vermont's rich history of cottage industry. That connection is important to Prevot, who wrote her senior thesis at Middlebury on the potential for northeastern Vermont's landscape and outdoor lifestyle to drive sustainable economic growth.
"The Northeast Kingdom used to have a really strong manufacturing background, with a lot of woodworking and garment manufacturing," says Prevot, who sees the network of seamstresses she hires to stitch hats and headbands in their homes as a part—perhaps the last part—of that tradition. She believes that outdoor recreation in Vermont, from ski resorts to mountain bike trails and canoe routes, can help reinvigorate the cottage economy.
Every piece in Skida's Vermont Collection is hand-sewn in the Northeast Kingdom. That commitment to local manufacturing is important to Prevot personally, and essential to the Skida brand. The company's products command a premium because they're made in Vermont, and because they're designed by and for people who live an active outdoor lifestyle.
The locally sourced concept also applies in Nepal, where Skida sources its Cashmere Collection of premium hats, shawls, and ponchos. Prevot fell in love with the Kathmandu Valley when she studied sustainable development there in 2011. She launched the Cashmere Collection in 2015, working with some of the same herders and mills she had visited as a student.
Prevot leased an old woodshop in Burlington, VT that serves as Skida's headquarters and workshop. | Photography by Rob Strong
"The cashmere industry used to be a really strong part of Nepal's export economy, but a lot of the manufacturing has gone to India and China. It's the same cause-and-effect that we're seeing with the cottage industries in the Northeast Kingdom," says Prevot, who spends a few weeks each year in Nepal and always brings her mountain bike.
She uses the bicycle "to explore in a wild place that's just full of discovery," and also to get around Kathmandu, careening through the city's crowded streets with blonde locks streaming and a floral-print neck warmer pulled over her nose to filter the smoke of cooking fires and vehicle exhaust. "It always throws people for a loop when I pull over on my bike and ask someone for directions in Nepali," she says. "Sometimes people don't even answer; they're just like, 'This is too weird.'"
Combining sports and business comes naturally to Prevot, still a formidable ski racer and a regular podium finisher in regional mountain bike races. Skida is an outdoor sports brand, and much of its success stems from Prevot's genuine embrace of that culture. Another key branding element is the Skida Plus One program, in which the company will donate one hat to a cancer center for each one a customer purchases.
Prevot was inspired to start the program in 2011, when a man ordered a dozen hats to give to patients at the Norris Cotton Cancer Center at Dartmouth- Hitchcock Medical Center, where his wife was undergoing treatment. The man thought the brightly patterned hats would bring a bit of warmth and cheer to the patients, and Prevot seized on the idea.
She'd been looking for a meaningful program to give back to the communities that had embraced Skida, and found a seamless way to execute it using a series of online promotional codes corresponding to cancer centers in ski towns from New England to Vail. Each time a customer enters a code at checkout, Skida sends a second hat— the Skida Plus One—to the chosen clinic. Customers don't pay for the extra hat, but they play an active role in the act of giving. The program creates a feeling of goodwill and community engagement that would be hard to put a price on, though Prevot doesn't seem to think of the program in that way. She'd rather talk about the smile a simple gift can bring to a person in need than the nuances of brand equity.
The limited runs and fun, sometimes quirky, designs are part of the Skida mystique. | Photography by Rob Strong
Still, there's no question that feeling good about Skida keeps customers coming back time and again, as does the company's ever-changing palette of limited-edition prints. "We spend a lot of time curating and developing each year a new collection of bold, colorful, super-unique patterns, and so a lot of our customers become collectors," Prevot says.
The limited runs and fun, sometimes quirky, designs are part of the Skida mystique. In the early days, when she and her mother were still sewing hats at their kitchen table, Prevot scoured the Internet for bolt-ends and remnants of brightly colored prints. On one memorable occasion, she found a few yards of strawberry print scratch-and-sniff fabric on eBay. The sweet-smelling hats made from it attained instant cult status, and last season Skida commemorated its 10th anniversary with a limited run of colorful (though unscented) hats and accessories called "Strawberry Fields." The collection pays homage to that serendipitous eBay score and celebrates the sense of spontaneity and (here's that word again) whimsy that has driven Skida's success from the very beginning.
There's a certain magic in that playful mindset, especially when harnessed to cottage industry, sports culture, and local pride. The catalyst in that powerful mix has been Prevot's steady management, and for that a measure of credit goes to the Tuck Business Bridge Program. "The ability to go back and forth between the creative and the more data-driven aspects of the business is so rewarding," she says. "I'm able to inform so many different decisions because I understand both sides of that picture."
*This article originally appeared in print in the winter 2018 issue of Tuck Today magazine.