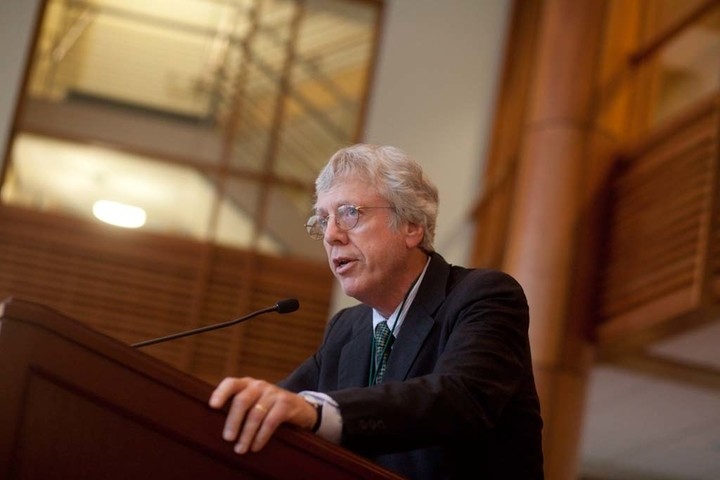 Making the Most of Your Bridge Experience
MAKING THE MOST OF YOUR BRIDGE EXPERIENCE
Reflections and advice on your career and the Tuck Business Bridge program, from long-time Bridge administrator Paul Doscher D'66.
After more than four decades of service to the Tuck School of Business, Paul Doscher D'66 retired on September 30, 2020. A proud alumnus, Doscher started his professional career at Dartmouth in 1974, holding a number of influential positions at Tuck and serving under six deans through periods of considerable growth and transformation for the school.
Since 2003, Doscher served Tuck as business development manager for the Business Bridge Program. He is revered by all for his ability to remember every Tuck and Bridge student and has guided countless students to apply and attend Tuck's MBA Program. As Doscher embarks on retirement, he shared the following reflection on his involvement with the Business Bridge program over the years.
What does the Bridge program mean to you?
Bridge has always struck a deep cord with me. Over the course of my career, I can pull out a central theme of wanting to help people. The Business Bridge program gave me a tremendous tapestry to help young people develop. It's always been especially gratifying to see the Bridge alumni who stay in touch after the program and eventually enroll at Tuck. To me, the ultimate payoff has always been helping Bridge students, not only within the program and with their first job opportunity, but also navigating the intense experience of the MBA.
What is your most treasured aspect of the Bridge program?
Early on, we didn't use the team company valuation as the capstone project. Instead, we had consulting projects that students would create. There was a lot of variance in terms of the requirements and the quality of work. Eventually, Robert Hansen and I made a decision to create the valuation model we use now with students presenting their team projects in front of a panel of industry executives. Over time we built a strong cadre of executives who would come back every year. Some were local to the Upper Valley who had previously worked on Wall Street or in consulting. We would also invite Bridge parents and family members to join the panels. Even if they were based in San Francisco, we would invite them to participate and it would help strengthen our relationship with the families.
You offered career guidance to thousands of Bridge students over the years. What advice would you share the most with students in the program?
When students are in the program, I try to tell them not to have too few eggs in their basket. A student might arrive thinking they want to go into consulting or finance or marketing, but it's important to have an open mind and to network effectively. This means not simply calling someone up and saying, "Thank you," but building relationships that last beyond that one encounter. As many of our alumni will attest, you often find yourself running into some of the same people down the road. Another piece of advice I often give is to take good notes and keep them. Like the MBA program, there is a strong emphasis of teamwork at Bridge. I don't want students to forget the intense team experience which culminates in their capstone project.
In your opinion, how does the program "bridge" a participant's future?
From a high level, Tuck has been offering Bridge for 23 years, with 7,000 men and women attending during that time, including more than 1,300 from Dartmouth. The Bridge program has earned a quality reputation that is widespread and permeates countless institutions. We are a catalyst for students' development as they prepare for a career in business. Last year, I talked to a Bridge graduate who is now enrolled at Tuck. He told me that he was recently in his Finance class and noticed that a lot of the material was new to his classmates, but that he had seen it before. So there is this advantage of engaging in pre-work and gaining pre-knowledge that you take with you when you transition into a job or MBA program.
For prospective students, what tips can you share for making the most of their time at Bridge?
I think it's important to attend all of the career sessions. Even if you think you know which industry sector you are interested in, you will be surprised by the overlap. There are workshops during the first week of the program that cover different topics like resumes and cover letters. Even though they are optional, take full advantage of those. I would also recommend that students maximize their team relationships. You need to look at the experience as a learning laboratory. Whether you like someone or not, there is total interdependency on teams. Working well within teams is one of the essential skills graduates should be carrying with them when they leave Bridge.
~~~~~~~~~~~~~~~~~
Designed for top liberal arts and STEM undergraduates and recent grads, the Tuck Business Bridge certificate program delivers a comprehensive business curriculum taught by top-ranked MBA faculty from the Tuck School of Business at Dartmouth, a capstone team project, recruiting services, and one-on-one career guidance. Business Bridge provides students with essential business skills by combining an intensive classroom experience at a world-class business school and the hands-on training of an internship–all designed to help launch a rewarding career.
By Adam Sylvain and Paul Doscher D'66
https://www.tuck.dartmouth.edu/mba/blog/making-the-most-of-your-bridge-experience