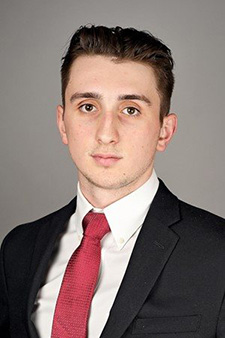 Tuck Bridge Stories: Kyle Emery
Kyle Emery attended Tuck Bridge in summer 2020 as part of our virtual cohort. He was highlighted by Union Athletics about his time at Bridge.
​https://unionathletics.com/news/2020/9/15/mens-lacrosse-what-have-u-done-this-summer-kyle-emery.aspx
Name: Kyle Emery
Sport: Men's Lacrosse
Major: Economics
Program: Participated in the Tuck School of Business at Dartmouth's Business Bridge Program
Kyle Emery is entering his junior year with the Union College men's lacrosse team, where he has been a two-year member on defense.As a sophomore, he was a member of the Student-Athlete Advisory Committee and Garnet Society. In the classroom, Kyle earned Liberty League All-Academic Team honors this past season as an Economics major.
Was getting into a program like this something you planned on doing this summer?
I planned on having a resume builder this summer after interning at a Mutual Fund Management Company during my freshman summer, but I was unsure what that would be as there are difficulties with sophomores pursuing business internships, especially now with COVID's impact.
How did you learn about this program?
I learned about the program through the Career Center, Union alumni, and recent Union graduates from the Class of 2019. I applied to the program via an online application, which included questionnaires, personal essays, and professor recommendations. I received my acceptance letter around April.
What did you do at your program?
As part of the Business Bridge Program I was taught introductions to basic Business School courses by M.B.A. faculty. Using these teachings, I was tasked with a group project to value an NYSE company of our choosing and present this valuation to a panel after the program. I was exposed to coursework such as corporate finance, financial accounting, strategy, and marketing, along with multiple team-building exercises, and access to Dartmouth's network of career services. My group had a lot of success through this program, and our final presentation on Chipotle Mexican Grill will be featured on the school's website and social media pages.
Was your program changed at all due to the pandemic?
The program was originally supposed to be completely in-person, as I was supposed to live in the Dartmouth dorms and attend classes and seminars throughout Dartmouth's facilities. Because of COVID, the program went entirely virtual. Our central platform was Canvas (the equivalent of Nexus) where every resource of the in-person program was transferred to be online. Classes and seminars were virtual on Zoom, and my group met daily on Zoom to complete group work and our final presentation.
How is your program related to your major?
As an economics major who has a passion to enter the business world after graduation, I had not known what area I was most passionate about. Through this program and exposure to the major parts of the corporate and non-corporate business, I have developed a new interest in marketing and some career paths following this sector. I hope to continue my search with the career center now knowing this
about myself.
What do you plan to do after graduation?
I still am shaping my career path and hope with the help of the Becker Career Center, I will formulate that this coming fall.

Copyright ©2020 Union College Athletics