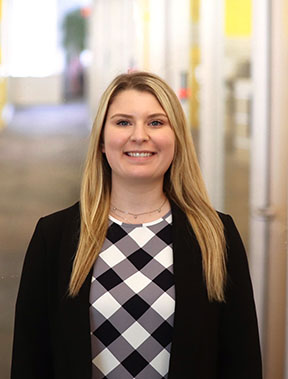 Tuck Bridge Stories: Alison Parman
ADVICE TO FUTURE BRIDGE STUDENTS, FROM A BRIDGE ALUM
By Alison Parman, Bridge '16, Colgate '18, senior consultant, EY FSO Consulting
When I began my time at the Bridge Program in the Summer of 2016, I had no solidified plan for what I wanted to do after college. Accounting, marketing, corporate finance, and investment banking all seemed interesting to me, but I didn't know how to decide what was the best fit. I came to Business Bridge with the hope that the program's curriculum could help me narrow down my goals for the future.
I remember enjoying every class I took during the program. Corporate Finance and Financial Accounting taught technical skills that my Liberal Arts degree would not. Marketing and the simulation project allowed my team to grow closer together and bring not only analytical mindsets to the table, but also creative solutions. Business Communications taught me how to be a better colleague and teammate.
The more time I spent at the Bridge Program, and the more classes I took, the harder it became to figure out exactly what I wanted to do after college. I wanted to do everything—to keep learning and growing in all areas of business.
One afternoon, my capstone project team wanted to attend a career panel discussion on business consulting during our lunch hour. I had never heard of the field before and was reluctant to go to a career panel on something I hadn't considered one of my future career options. But my team convinced me, and the more I listened to Bridge's guest speakers, the more I realized that I had found my path. The ability to rotate through different projects and clients with work that spans across many different areas of business management, was exactly what I was looking for.
My advice to future Business Bridge students? Come in with an open mind and utilize every tool the program gives you. Go to all the information sessions, career panels, and career fairs. The more information you gather, the more informed you will be about the business world when you leave the program. You may be introduced to a new business area that you want to continue studies in, a new business idea or solution you want to continue to build on, or a career path you would've otherwise not known of, that turns out to be perfect for you.
https://www.tuck.dartmouth.edu/mba/blog/advice-to-future-bridge-students-from-a-bridge-alum